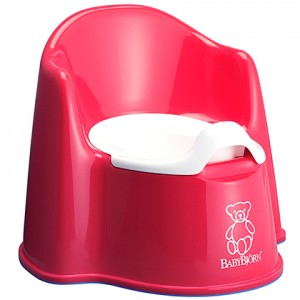 Me and our little one have started potty training.  Most conventional books say potty training can only start when the baby can walk and pull up and down the trousers and put the timing at about 2-3 years of age. But our darling son just always hated wet nappies and so he started to pee whenever we changed him or put him on the changing mat.   Or he cried when he wet or dirtied the nappy. First, we tried holding him on the toilet and it worked sometimes, but I was worried it would be too uncomfortable for him. The old potty was just too unstable for our 9-month-old.
After quite some search I bought the Baby Bjoern potty brand new from John Lewis.  It was quite expensive for a potty and I doubt there are any more expensive potties out there, but it was really worth it. Our baby just loves his potty. He is so proud of himself whenever he manages to pee or poo in it. I thought it would take a while till he got to grips with it but he took to it immediately.  After the second or third time trying him on it, he even pooed in it straight away.
I have also found the book for potty-training babies, it is called diaper-free baby and the method is based on elimination communication. So the parents learn baby body language or teach the baby sign language for taking them to the potty or toilet. [ Born Ready Forum | Yahoo email group | Nappy Free Baby UK ]
Its very common in Africa and Asia to do nappy free elimination communication, like in China [ Tribal Baby ].  Leg warmers, like BabyLegs, Huggalugs or Mikihouse are recommended to get the little ones as successful as possible with their EC as are split crotch trousers [ DIY ].
Comments
Comment by elizabeth myles-geddes on 2011-06-29 00:27:19 +0100
Hey Ulla,
Congratulations to you and Micah on your wee boy. I saw you walking past real foods with baby in sling in January and I thought aha! I lived upstairs from you in fidra court way back, I was with graham at the time. I am married now (not to graham) and working at out of the blue in Leith we have a 26month old called Isabella. X
Comment by Alison on 2011-08-01 07:47:41 +0100
Hi Ulla
My name is Alison and I live in the island state of Tasmania, Australia. I've just started potty training my 6 month old and would love to know how you are going with your little one! I find that there is nothing better than real life stories to help motivate and inspire with infant potty training, so I'd love to know more!
Alison