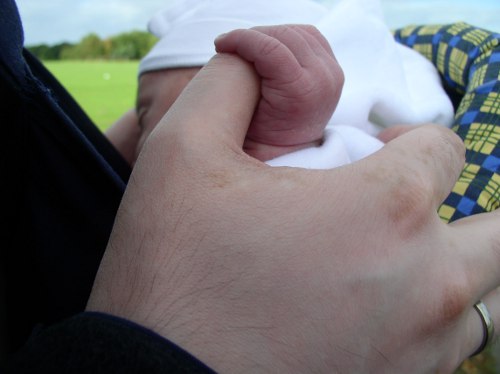 Thank you very much for the interest, good wishes and presents for our little one and our new family. My baby is now over a month old and is doing really well and growing really fast – at his birth, he weighed 3 600g/7 pounds and 15 ounces and now he is already over 4kg.  He is starting to show cute facial expression and tries to learn smiling. He has recently developed a huge visual interest in colours.
He loves dancing with Daddy and going out with him in the baby sling. He likes meeting new people who all adore him, so he is putting on extra cheeky charm.
He also likes seeing more vibrant and exciting colours and he is always very well behaved when we go out.
For car journeys, we added a dummy in case of crying spells on busy roads and traffic jams. He likes driving though he loves his milli (milk) much more.
Our baby still retains his love for music, in particular harmonic, calming classical music for falling asleep. He also quite likes the Baby massage course and from next Monday, we start Baby Music, too, where we'll be singing nursery rhymes and later on add some instruments like drums or rattles. End of October, when the massage is finished, a new course for Baby and Parent Yoga is starting, which we are interested in too.
As we had a brilliant water birth, we continue to enjoy big splashy baths together. Baby swims are starting here only for over 4 months age at the local swimming pools, but we are looking forward to trying it out when we are old enough.
We are now becoming a complete family home in our little flat. The little one also likes watching the fishes and the guinea pigs. His favourite toy is at the moment the little rocking baby swing.
He is also quite good with sleeping, he nearly slept through tonight.
He is an absolute baby star so far,  I am very proud of him.
Comments
Comment by K on 2010-10-26 07:59:01 +0100
baby swings are nice addition to your home, it also improves the motor skills of the baby:*,
Comment by Flannel Sheets · on 2010-11-12 18:58:31 +0100
my baby enjoys playing on the baby swing, baby swings can really make your baby happy `,~
Comment by Paul on 2010-12-08 22:17:45 +0100
Congratulations on the new arrival! May he live long and write many Indymedia reports!
All the best from Granton, Paul
Comment by ananthnmishra on 2011-03-10 11:24:22 +0100
Thanks for posting a nice blog.I like this.