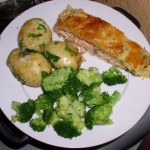 For the last week, me and my partner have had great fun joining privately into the Channel4 Cookalong. It's basically a very enthusiastic cooking course on TV with lots of people cooking simultaneously the same dishes together.
The first dish was a Salmon en Croute, here I made the mistake of first getting the wrong doe – a puff pastry – as I could not find any other pastry in the shop, but then realising it was supposed to be a shortcrust pastry.  I also got a piece of salmon that was too thick to be flipped on top of each other with the filling. And, yeah, I forgot to skin the thing, too. But it was very nice although quite expensive.
I was running around the whole week trying to get some rhubarb, but though Waitrose stated on their website it would be in season now – with my allotment very much in disagreement as it all died back – they didn't have any either. So we missed out on the Rhubarb Crumble dessert, but by that time, I was about an hour behind anyways as Gordon Ramsay is speed-cooking. It is very recommendable to print the recipes out beforehand and also to prepare the ingredients and have everything chopped up and washed up at the start, pots and everything.
Then I hunted for Clotted Cream, a very particular Cornish speciality. Although it is more or less cream, not whipped but of an ice cream consistency. Very nice! Had my problems with making the caramel, but at this opportunity, it somehow worked, however, the caramel for the Hot Bananas in week 6 went totally wrong and bitter. I greatly enjoyed the Warm Goats Cheese Salad and had it at least three more times the same week before getting fed up with it.
Here my very exciting feedback at the time:
"Phew, that was fast! Never before was so happy for every minute of ads… guess Sky + with its pause and rewind live tv really comes into its own with this programme, wish I would have it! That cookalong map doesn't work for me, it seems to have something against Mozilla and Linux? The training videos are fab, wished I would have watched them before the broadcast, especially the one about skinning the salmon! It was nice that there was a summary of what had been done to the salmon before/after the ads, could that have been done more often? The starter was lovely by the way, but just wasn't able to keep up with the speed so the dessert will be on tonight, hopefully, the cookalong is on Channel4 On Demand? The pastry went a bit temperamental but in the end, behaved itself though it wasn't looking as professional as on TV but a bit patched together. My salmon piece was brilliant never had such a fantastic piece of salmon before! But it was too thick to flip the two halves on top of each other! So my salmon en croute had only one layer, but that means we can have a second helping of it tonight. I am very much looking forward to the Lasagne, and this time will try to print out recipe and prepare ingredients more so I can catch up better. Anyways a very exciting cooking show! Loved the pony in the kitchen and the increasingly frustrated celebrity – could really sympathise with her! I also love that this show rewards socialising and cooking together with friends as you really need several people to a) prepare and b) eat and c) have fun!"
Posted by Ulla on 25/10/2008 10:07:00
The second week included one of my favourite dishes: Lasagne. But of course, I again ignored all the well-meant advice to use non-pre-cooking Lasagne sheets, and the pasta just stuck together when boiling it into thick cardboard-like layers. But it all tasted great!
The third week included a duck breast in cherry-port sauce. And a angel hair pasta with crabmeat. That week was definitely a cooking highlight as I could neither get crabmeat nor duck breasts and therefore ended up getting a whole duck and a whole crab and trying to take it apart in a way that it could be used as intended for the recipes. The crab was incredibly fiddly and stinky, and basically a job for trying to tickle the white meat out of the claws and feet with a knitting needle. My partner was certainly very entertained this week. And the duck – let's say it tasted fantastic for days without end. It was all a bit much and I still have got its fat in my fridge. When cooking it the dried cherries were rehydrating themselves fantastically and the sauce was beautiful. However, I made the mistake of turning the duck because the potatoes didn't get ready in time, and therefore the nice crunchy skin got unfortunately soft and soggy.
Week4 was fantastic, too, 70ies night and apart from making too much mayonnaise and spooning it all onto the prawns, it was tasting incredibly delicious. But for that the British use smaller baking dishes – my mandarin cake ended up incredibly flat and about 2cm high. Non-comparable with the original but we ate it all! And very quickly indeed. The Steak Diane was lovely, too. Loads of calories, too, seems in the 70ies people were very keen on adding loads of cream and butter and alcohol, much more than today.
Week5 was supposed to be Asia night, but because of work we ended up having it several days later via the CatchUpOnDemand TV. It's sadly only half the fun when it's possible to catch up and rewind and when you know it isn't live anymore. It shouldn't make any difference but it somehow is a bonding experience to know there are a million or so cooking and eating along with you. My partner really loved the Hot and Sour Soup, for me it was a bit too spicey. We used our homegrown Jalapeno chillies for the recipe. For the Beef-stir-fry we also used our own home-grown beansprouts! Not sure if something with the sauce went wrong or if it is intended to mainly taste chilli-hot; I wouldn't have minded getting to know a little bit more about how to make delicious Chinese sauces as that seems to be quite the most tricky thing about it. As said before I burnt the caramel and it tasted horrible – not because of the sugared chilli, which worked surprisingly well.
Week 6 was Indian food night. Great stuff, and everything went surprisingly well, but that for a sudden doubt if tsp means teaspoons or tablespoons. I decided on tablespoons which possibly meant the dishes were extra spicey, but they tasted fantastic. We missed out on the oranges because of lack of pomegranates and also we found out that we can usually eat only two dishes an evening – starter and dessert on one day, main course the other. So at that opportunity, we decided that the oranges would have to be left – but according to the many excited and happy cooks feeding back on the Channel4 website, that might have been the mistake of that week. I am very happy about participating in this cookalong because I actually learn a lot and am trying out a lot and it is very good fun.