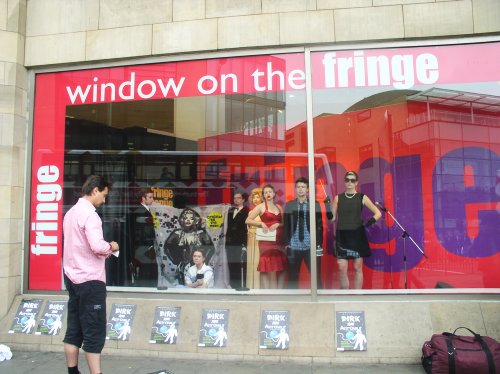 Window on the Fringe
John Lewis
A stage replaces the luxurious carpet display in the main shopping window of John Lewis. Every half an hour the acts change when a short performance is shown. Each theatre company has a weekly slot during the peak shopping time,
which had to be booked in advance via the Fringe website. Outside the shopping times and during breaks the window is disappointingly empty, but the organisers are planning to cooperate in future with Edfest TV. Audience numbers for this brilliant, eye-catching shopper stopper vary between zero, ten and a hundred; dependent on weather, individual time commitments and performers. Most passers-by only enjoy it for a short while, as standing beside the traffic is quite uncomfortable.
St James Centre, 6 – 27 Aug, 12:30 pm (4 pm), Free Non-ticketed, fpp 123.
Rating: 3/5