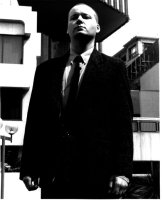 It is pretty late for doing my interview for the cultural journalism course assignment, and the planned talk with the
ex-ambassador to Uzbekistan has just fallen through. My last hope is a reliable libertarian communist: Stewart Home, unconventional pulp-fiction author, prankster and performance artist is now teaching postgraduates as a writer in residence at Strathclyde University.
Stewart expresses happiness with the postgraduate students he teaches. He encourages them to establish personal blogs as imaginary persons on Rupert Murdoch's MySpace website.
"It is amazing when you first make them do something and initially they don't like it but then are really getting into it."
The blonde, short-haired, clean-shaven teacher thinks that pseudonyms help to develop the writing skills of his students.
"A lot of people have fictional identities at MySpace."
The good-looking, former art class model is impressed with the immediacy of the Blog entries and the lively community responses. "_There is nothing like developing your writing live."
_ _
_
Every week new tasks are set for the students to progress:
"Last week they had to write reviews about books or theatre shows they haven't read or seen, without it being obvious from their blog entries." says Stewart.
"A lot of journalists do that all the time". It would just be a matter of "talking about themselves but they need enough substance to look credible."
In his most recent work, the Londoner started to utilise the world wide web. He is fascinated by YouTube, Wikipedia and MySpace.
"All the kind of Internet is now totally integrated into people's lives, it is not the stuff of nerds anymore. It is a good way to distribute [my art]."
The author tells me that he planned for a long time to use the Internet's potential for his art. _
"It was just a matter of allocating time."_ With a professional development grant he received last December " one of the last given out before these grants were completely stopped " he was able to commit himself to digital development and website building. He creates his own content now on the former 'fanclub' website of the Stewart Home Society .
I ask him whether he has himself a blog on MySpace. He tells me he has six – "a whole lot of different profiles under different names". I vaguely remember a previous conversation with the 44 years-old outrageous artist, whose polite private identity as a charming, friendly, loving and caring father seems as a totally striking contrast to his professional confident, cult persona. He told me then, that tried to be kicked off the MySpace site.
"On MySpace there is a lot of rule breaking – the last time I looked there were about 25 Pete Doherty. And it is also used commercially. There is a Rupert Murdoch, an anti-corporate activist and George Bush is out there and whoever else. It is a very clunky site which never works very well."
As a film maker, Stewart has just released BBC-funded interviews on YouTube with Turner Prize winner Jeremy Deller, sculptor Francis Morland, painter Mikey Cuddihy, musician Barry Smith and writer Bill Hopkins under the label of the psycho-geographical project "London Art Tripping".
The former anarchist is enthusiastic about the possibilities of the Internet. "I have still got to get my head around [the photography website] Flickr."
The writer tells me that he also got editorial access to Wikipedia, but he has not used his administrative privilege yet. His own biography is already published on the collaborative community encyclopedia.
"I think it has been written by Floriam Cramer because it's someone German and there is a slant of me being 'best known for the early novels'."
The artist became famous with his early pulp fiction, such like "Pure Mania",_ "Blow Job"_ and "Red London", which usually feature sex and violence in an exaggerated underclass socio-political milieu spiced-up with class struggle, creative anti-authoritarian idea chaos and deliberate similarities to living persons.
Will his new book_ "Memphis Underground"_, which is published in April, be as engaging and entertaining as his earlier works, I ask the former redskin, who still likes to wear DocMartens and working-class clothes.
"I like post-modern novels. The new novel is in the mould of the more recent books. When "69 things to do with a Dead Princess" was published [by Canongate in Edinburgh four years ago], a lot of the people who liked the earlier books found it hard to understand. But it was more commercially successful. It is not good to repeat yourself all the time.
The new book deals with the gentrification of London and includes art world content and four strings of action. It is not science fiction but structured like a science fiction book. I think it will sell very well."
"Will the new release still include the usual class-war direct action and make a mockery of capitalism?" I ask enthusiastically.
"It is dealt with in a more subtle way. It is about an office worker who ends up homeless, because in London housing is so expensive. Then he tries to find a way out by impersonating an artist. And Princess Diana is back in this novel, too. This time she is living in a housing estate in Orkney together with other celebrities who faked their death to escape publicity.
And there is always sex and violence in my novels."
Beside his novels, his art work is a lot more complex and less easy to understand, except that the musician experiments with rule-breaking and pushes the boundaries everywhere and anytime. He was even thrown out of college in the final year of studying philosophy _"_for arguing with the teacher and winning the argument."
In the early nineties he initiated the Art Strike. I read about this artist, Gustav Metzger, who'd declared a cultural strike between 1977-80, and thought 'Why don't we have one?' "
Stewart loves working with multiple identities under names such as Luther Blissett, Karen Elliot and Monty Cantsin and called on others to adopt these names, too. He embraces Plagiarism by often lifting whole paragraphs of other authors into his written work without reference, and sometimes even without context. He deliberately breaks the copyright law for his artwork " for example by taking the amplified background noise of silence in _"Screams In Favor Of De Sade"_ as well as his black footage to incorporate in his work. With his Necrocard " a satirical, necrophiliac artwork based on the Organ Donor card " he established himself thoroughly as a professional prankster, too.
Stewart follows on from where the Situationists left off. He regards every reading and talk about his work as an opportunity for a performance.
"My live art routines mix stand up, spoken word and philosophy but are generally booked as 'readings'.", states Stewart. "I recite memorized passages from my novels and stories and since rhythm is important to me, audience members unfamiliar with my writing often believe they are listening to poetry."
"I am still having fun with it." Stewart says about his art. "What I do gives people a lot of credibility. I am the best", he laughs.