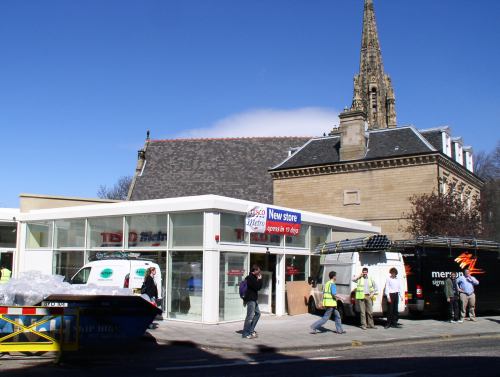 A new Tesco store will open end of May at the 'Holy Corner' near Napier University's Merchiston Campus.
The area is currently dominated by local, small, independent, high-profile shops, but worries of their sustainable future have been expressed at the newly launched Bruntsfield Consumers' Forum.
Tesco in particular, but also other major supermarkets, have been blamed for the phenomen of Clone Towns and Ghost Towns, where few independent shops and services are left after superstores were opened.
Last week Tesco announced a 30% share of the UK supermarket sales and a £2.3 billion profit.
The new Tesco Metro in Bruntsfield will cover a floor area of 13,500sq ft.
Karen Mackay, owner of Nippers the children's clothing company in Bruntsfield, is not yet worried about the future of her own shop:
"I don't think business will cross over from the specialised shops. It is gonna be a Tesco Express, so they sell food and newspapers. The newsagents have reasons to be particularly worried.
I think Napier students are gonna use the new Tesco more than anybody.
Karen started her own company in 1987, designs and even produces her own children clothes down in the Borders.
Nick Gellagly, Tesco manager for Scotland, says:
The advantages for students are, that we offer a great range of convenience foods at great prices. Students are able to shop for less and we employ a lot of students.
Although the new Tesco Metro aims to attract passing trade consisting mainly of Napier University's students and staff, locals might also switch from shopping in the small shops.
Philippa, a mature Napier student living in Bruntsfield, is also aware of the changes to the community which Tesco's presence might initiate.
I think it is a real shame. The nice thing about Bruntsfield are the local, individual shops like the butcher or the fishmonger. That's what makes it a really nice place with a village-type of feel.
This could be the start of making the area more mainstream, commercial with more franchises moving in.
The first meeting of the Bruntsfield Consumers' Forum overlapped with the Napier student senate on Tuesday, 2nd of May. It included a presentation of Joanna Blythman, author of "Shopped- The Shocking Power of British Supermarkets, a book which received excellent reviews by critics and readers.
The Forum is aligned with Tescopoly, an alliance against Tesco, which was founded last summer, and its website was launched in February.
The aims of Tescopoly are to publicise local, country-wide and international campaigns against Tesco's market dominance and to criticise any unethical policies of the supermarket giant.
Just because we have been criticised, doesn't mean that the criticisms are true. states Nick Gellagly from Tesco.
I think it is easy to think that supermarkets are apart, but we are a part of the High Street and can benefit the High Street. He points to Tesco's own research, which found out that the majority of supermarket shoppers would visit other shops at the same time.
It would be up to customers where they shop.
Asked about the expansion policy of Tesco, he says:
"The planning policy of most councils now is that supermarkets are encouraged to be in town rather than out of town.
Members of the Tescopoly Network include Friends of the Earth, the GMB: Britain's General Union, Banana Link, nef (the new economics foundation), Women Working Worldwide, the National Group on Homeworking, War on Want and the Small and Family Farms Alliance.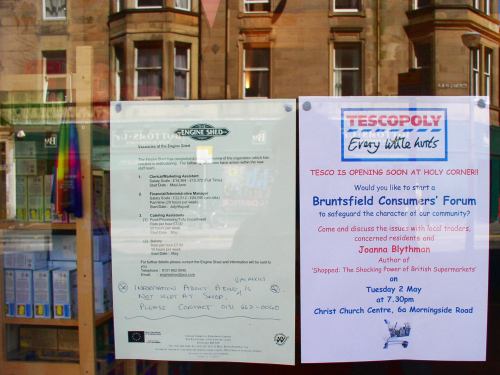 Since end of April, the Britain's Office on Fair Trading has been considering a full inquiry into the behaviour of supermarket giants towards small, local, independent businesses.
Comments
Comment by Tom on 2006-07-18 05:51:25 +0100
"This could be the start of making the area more mainstream, commercial with more franchises moving in."
Eek. Bruntsfield lost that status the day the Palm Centre closed, was cruelly gutted and reopened as… Subway.
The loss of Chicken Mango Monster Rolls is a tragedy from which I fear mankind may never recover.
Comment by sandra407 on 2009-09-09 16:58:15 +0100
Hi! I was surfing and found your blog post… nice! I love your blog. 🙂 Cheers! Sandra. R.